When you click on one of our offers and make a purchase, we may earn a small commission.
Save with Cornerstone.co.uk Voucher Codes in July 2022
Free codes, lots of savings
Cornerstone was founded in order to finally give men a really smooth, comfortable shave. You simply select a combination of environmentally friendly products and a delivery schedule to match your personal shaving routine. You will get free delivery of your Cornerstone box to match your shaving schedule. With Cornerstone, you'll always have everything you need for a great British shave.
We're on the hunt for new Cornerstone.co.uk voucher codes.
Click subscribe on our newsletter and we'll keep you in the loop when new Cornerstone.co.uk vouchers are posted.
Receive an e-mail when a new Cornerstone.co.uk voucher is added!
Are we missing a voucher?
Submit new Voucher
30 Day Statistics: 0 new Voucher Codes added • 0 Tested by hand
Recently Expired Cornerstone.co.uk Discount Codes & Promo Codes
Feel free to try one of these Cornerstone.co.uk discount codes that may still work.
You may also like these vouchers
Cornerstone.co.uk customers also love to shop here
Useful tips and information
If you've ever gone to the grocery store only to realize, as you walk back into your home, that you forgot to pick up razors - again - Cornerstone may just be the right choice for you. For too long razors have both been too expensive and inconvenient to restock. But with Cornerstone, and their fashionable website Cornerstone.co.uk, you can find affordable solutions to both of those problems, all without ever having to leave your home.
The story of Cornerstone is the story of their founder's struggle with the same issues that make Cornerstone so necessary. He struggled with finding blades that were both inexpensive and wouldn't tear at the sensitive skin of his neck. So, two years ago, Oliver Bridge founded this online subscription company to combat his disappointment with a shaving industry that had grown complacent. Today, Cornerstone is the proud supplier of shaving equipment to tens of thousands of consumers and the owner of a wide variety of industry awards. The good news is that this success has been passed down to you, the user of the product. You will find Cornerstone's blades to be high-quality and convenient to a degree that may be surprising.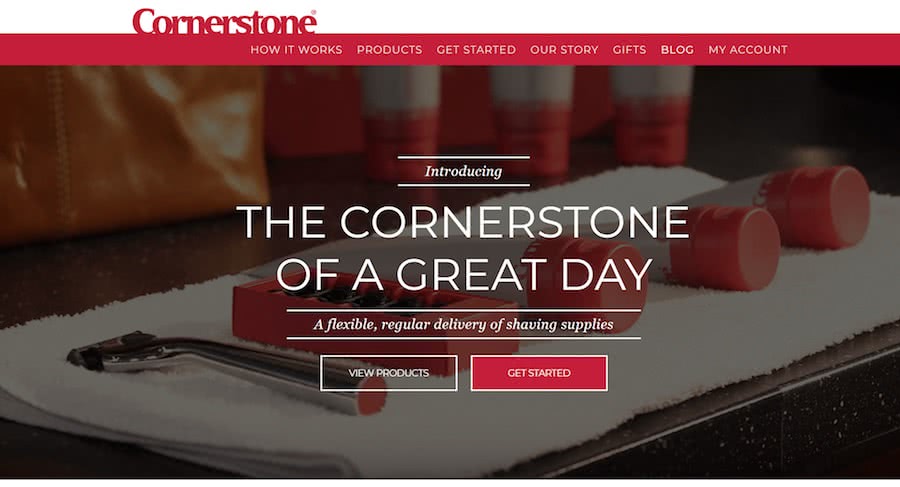 How It Works
If you are unfamiliar with product subscriptions services, don't fret. There isn't much to figure out and it is a very painless process. Here are the steps to sign up for Cornerstone's blade subscription service:
You pick your plan. The plans vary in terms of size and frequency and there is always an option that will fit your schedule. They also offer a range of shaving products and creams and those can be regularly delivered, as well.

The box gets delivered. Your order will arrive on a regular schedule and you won't be charged until the box is shipped. The delivery is free and is always designed for your convenience.
That's pretty much it. If that sounds easy, it's because it's a simple process. The best part of it may be how flexible their schedule is. You will never be required to accept a box you don't want and you can pause the deliveries for as long as you'd like.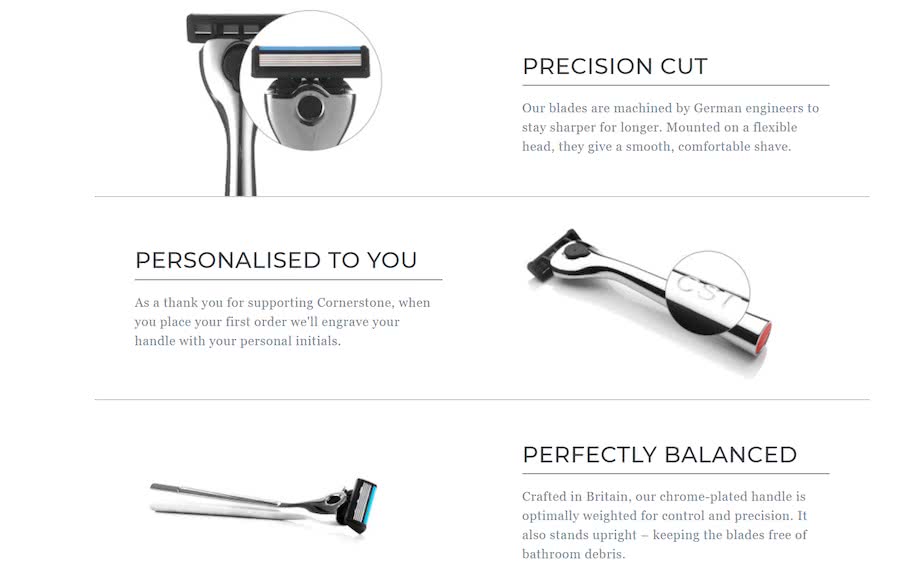 The Blades
Of course, this would all be moot without quality blades. Luckily, Cornerstone takes great pride in their blades. Every blade was designed by German engineers to stay sharp and the flexible head of the blade will conform to every contour of your skin. With a chrome plated handle, engraved with your initials courtesy of Cornerstone, the blades are balance and well-made. Every blade is constructed right here in Britain, as well.
Offers
Cornerstone.co.uk is full of deals and offers for the savvy consumer. Simply arriving on their website for the first time will make you eligible for discounts up to £10 off on your first order.