When you click on one of our offers and make a purchase, we may earn a small commission.
50% Poundshop Discount Code - Save today!
This voucher is unverified
This voucher is unverified
Never miss a Poundshop voucher code again!
Recently Expired Poundshop Discount Codes & Promo Codes
Feel free to try one of these Poundshop discount codes that may still work.
You may also like these vouchers
Explore All Valid Poundshop Deals & Sales for December 2023
| Discount | Poundshop Voucher Details | Expires |
| --- | --- | --- |
| £3 | Score £3 off | No expiry date |
| 4% | Shop 4% off Everything with Voucher | No expiry date |
| 10% | Score 10% off Summer Lines at Poundshop | No expiry date |
| 50% | Poundshop Deal: More than 50% off Christmas Reductions | No expiry date |
| £1 | New In Collection from £1 when you Redeem this Offer | No expiry date |
| £1 | Poundshop Deal: Slimfast for £1 | No expiry date |
| £1.75 | Poundshop Deal: Popworks for £1.75 | No expiry date |
| £1.75 | Snack a Jacks for £1.75 at Poundshop | No expiry date |
| £1 | Bliss Snacks from £1 at Poundshop | No expiry date |
| £2.5 | Poundshop Deal: Nature Valley Oats & Honey Bars 20 Pack for £2.50 | No expiry date |
Poundshop customers also love to shop here
Useful tips and information
When two powers join forces, you get a superpower that can't be stopped. That's precisely what happened in October of 2014 when Poundshop.com and Hereforapound.com combined to make one larger company. Poundshop is now the UK's largest online pound shop, and you are the one that reaps the massive dividends. With everything you could ever hope to find in a typical pound shop and many things that might surprise you, Poundshop is a premier destination for one and all. At Poundshop you can easily order affordable household items, and have your shopping done in a flash. This allows you to spend more time doing other things that are a lot more exciting.

Make your money go further with a voucher
Sometimes a pound is worth more than a pound. It sounds ridiculous, but a pound spent at Poundshop will be worth more than one spent at your local store. That's because Poundshop lets you use discount codes to save even more on your everyday items. These codes put money precisely where it belongs - in your pocket. Why spend more money than you need to spend? With the help of a discount code, you don't have to. Here's some of the vouchers you might find:
Take 5% off 2 or more items at Poundshop

10% off kids products

And many, many more
Although it would be easy to spend your entire day browsing through the abundance of options at Poundshop, but we know you have other things to do. You might even have more shopping to do for other kinds of homeware. Here's some places for you to start saving:
You don't even have to sign up to start using these amazing discount codes. Just start using them, and watch your bank account stop leaking money. If you want to be notified when we have new deals to save you even more money, all you have to do is sign up for our free newsletter, and you'll be in business.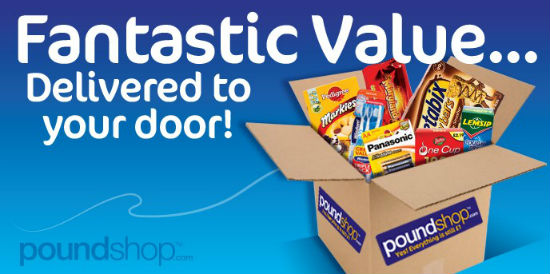 Discount codes make a real difference
What do you call a voucher that doesn't work? Nothing - because it's not worth your time. But a voucher that does work? That's called the key to financial freedom. To put that key into the door, all you have to do is follow these 5 steps. As you'll see, they're not only easy, but very intuitive. Here's all you have to do:
Meander your way through the Poundshop just like you would at your local Pound Store. As you find items you need for your home, then add them to your cart. It's much easier to do this online, as your arm won't have to carry all of the items you're about to purchase.

Then click on the universal sign for checking out, the shopping cart in the top right corner of the screen. This will take you to the checkout section.

Now it's time to either log in or sign up. If you're a repeat customer, then you know what to do, but if you need to sign up for a Poundshop account, go ahead and do so.

Once you're done logging in, you'll arrive at the payment page. This is where the magic starts happening. Now you look for the designated box for your discount code. It should be near the subtotal.

All you have to do is copy your code and enter it in the box, then watch the savings start to stack up.
Now let's take a look at what you might find at Poundshop!
Get what you want, and what you need
Here's some of the item's you'll be able to stock up on at Poundshop.
Food and Drinks

Pet care

Health and Beauty

Home and Garden

And much more
Imagine what you can do with all of the spare time you'll have now that your household supplies can be bought for less money and online to boot? Maybe you'll get a new hobby, but whatever you do have fun!