When you click on one of our offers and make a purchase, we may earn a small commission.
£200 Olympic Holidays Voucher Code - Save today!
This voucher is unverified
This voucher is unverified
Never miss a Olympic Holidays voucher code again!
Recently Expired Olympic Holidays Discount Codes & Promo Codes
Feel free to try one of these Olympic Holidays discount codes that may still work.
You may also like these vouchers
Explore All Valid Olympic Holidays Deals & Sales for December 2023
| Discount | Olympic Holidays Voucher Details | Expires |
| --- | --- | --- |
| £150 | Receive £150 off Holiday Bookings with this Discount Code | No expiry date |
| £200 | Editor Pick: £200 off per Person on Island Hopping Holidays for Two People or More with Discount Code | No expiry date |
Olympic Holidays customers also love to shop here
Useful tips and information
Olympic Holidays refers to itself as "The Island Specialist." Considering all the popular island resorts you can book travel to through Olympic Holidays, the company's nickname seems appropriate. The travel firm allows travelers to escape the winter or enjoy the summer in luxury or with the lowest prices. Multiple destinations in Greece and top winter sun spots such as Cyprus, Goa, and the Canary Islands allow for warm and exotic getaways.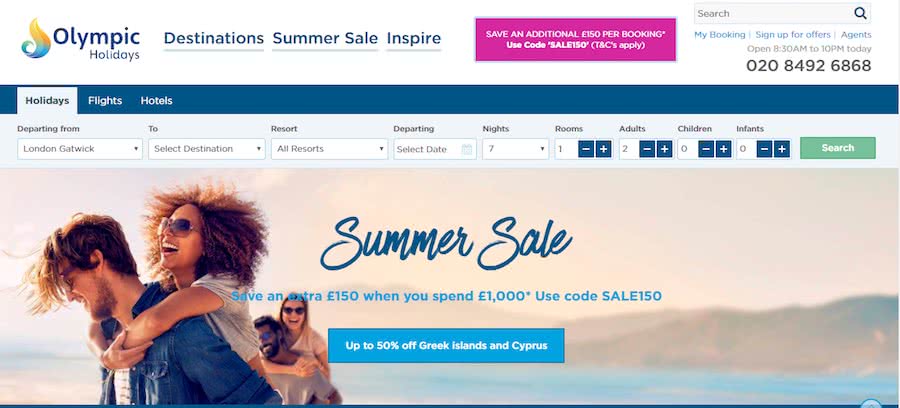 Full travel accommodations for entire families can be easily set up online. Adding a promo code to a booking checkout further increases the ability to save money while traveling. A decent array of discount deals lets Olympic Holidays stand out for the budget-conscious traveler.
What are early booking discounts?
Last-minute booking arrangements can be a little chaotic for both the traveler and the travel agency. An early booking discount presents an incentive for someone to book, say, a summer vacation during the second week of January. The incentive comes, of course, in the form of reduced prices on the overall trip package. If you know you want to travel in the coming months, why not try to book as early as possible in order to save additional money? The bookings on exquisite accommodations alone could end up being dramatically reduced.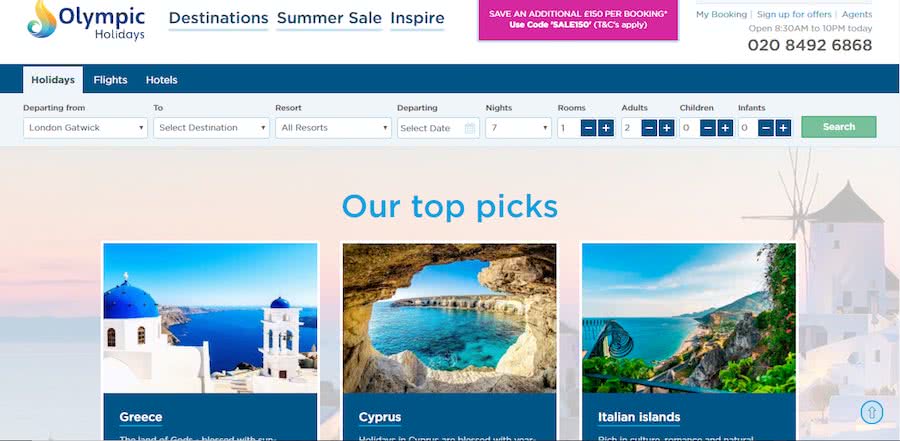 How do seasonal booking discounts work?
Holiday travel to certain destinations may be busy or slow during specific times of the year. To move travel deals during what might be deemed "off-peak" travel, a firm could cut down on the costs of holiday bookings if travel plans are paid for during a certain time of the year. Booking a trip to a particular country during a particular season may yield a savings of up to half off. Purchasing travel to various locations between set months could also yield incredible savings on the price of travel. Keep an eye on seasonal deals since they allow for booking inexpensive trips.
Are certain discounts specific to certain departure cities?
Yes, additional money can be saved if a trip is booked out of a specific city location. If you live in that city, you luck into an extra saving that allows you to book a trip that might have otherwise been out of your price range. Just because you don't live in that city doesn't mean you can't take advantage of the special discount. book a trip to the city through a coach or other means of transportation may wish to do so. The small cost of the coach trip could be more than paid for by the significant savings provided by buying passage from a nearby city.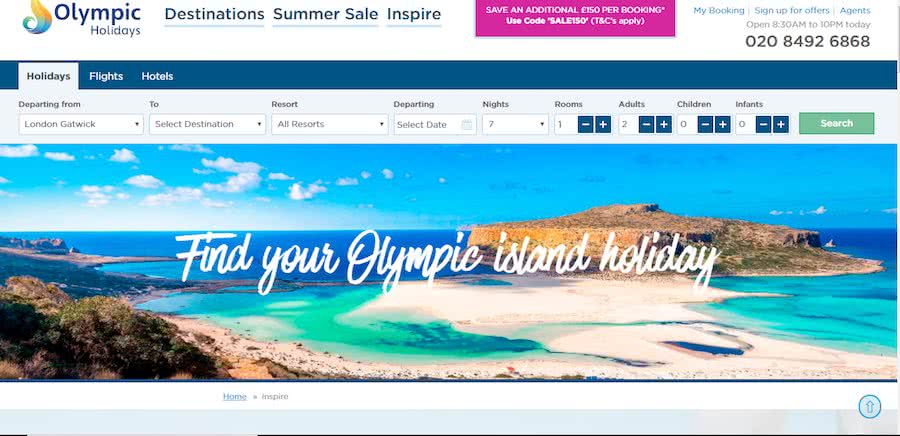 Do you receive discounts for spending a certain amount of money?
Olympic Holidays knows that one of the best ways to get travelers to spend money involves affording the chance to save some of their funds. So, those who spend over a certain threshold amount may be able to take advantage of a set cashback amount. The destinations, money threshold, departure city, and time of the year associated with these discounts may consistently change.